EWorld Easy Photo Recovery ver 2.1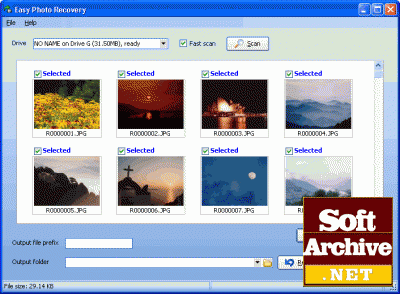 EWorld Easy Photo Recovery ver 2.1 | 2.58 MB
Easy Photo Recovery provides you a handy tool to recover deleted photos from memory cards. The simple interface yet dedicated recovery logic helps you to recover lost images from digital media like Compact Flash, SD, MMC, memory stick, etc from any manufacturer.
# Ease of Use
Easy-to-use user interface. Two scanning modes available to effectively and efficiently recover the deleted photos.
# Recover Original Filename
Recover original filename even in 'Complete Scan' (sector scanning) mode, which is hardly found in other similar products in the market.
# Try before Buy
Trial version allows you to save your pictures and AVI video (reduced resolution/duration) to ensure proper recovery.
# Thorough Recovery
Specially designed logic to recover as many photos/videos as possible from your digital media.
Homepage
Quote:
http://anonymz.com/?http://www.hketech.com/photo-recovery/
Download: 2.65 MB
Quote:
megaupload.com 6VHORIH7
Mirror
Quote:
http://anonymz.com/?http://rapidshare.com/files/49461988/EWoEaPhoReco.2.1_softarchive.net.rar
Password: softarchive.net
More Recovery Tools
rapidshare.com 1YV3DA